There is something very glamorous about cruising, and if you don't want to embark on a cruise that is family orientated there are still many cruises that cater for adults only. One of the best things about cruising is the affordable pricing, which is very generous- even more so if you can find yourself some fly cruise deals to make it even cheaper. While there is no best time to take a cruise, cruising in the winter is something very special. Not only do you escape from all the madness at home, you get a chance to see how other countries celebrate Christmas thanks to some fantastic stop off. Here Columbus Direct shares just a few of the best winter cruise destinations if you are looking to get away from it all.
The Caribbean
There is no wrong time to sail around the azure sea of the Caribbean, but in the winter it is something very special. A trip to this tropical paradise is the perfect antidote to the bitterly cold British weather and while everyone is wrapping up like an Eskimo back home you can be relaxing on a deck enjoying the sun, or visiting one of the many islands. Jamaica, the Dominican Republic, Antigua, the list goes on and everyone is as warm and welcoming as the last one. You have never experienced a cruise quite like a winter trip to the Caribbean.
Dubai
The current holiday hotspot for all modes of transport, a winter cruise to Dubai has it all. Wonderful weather, shopping 'til you drop, wonderful beaches and the essence of the Middle East meeting the west. Dubai is a wonderful destination at any time of year, but at Christmas it is spectacular. They really pull out all the stops here to make you forget you are effectively in the middle of the desert and give you a magical time, whether you are shopping, sightseeing or even skiing in their outstanding indoor centre complete with imported snow.
Australia and New Zealand
Even though Australia has been a long term, not to mention long haul, cruise destination, and many a cruise agency similar to Cruise Agency will help you find the best Australian cruises going, New Zealand is still somewhat of a new kid on the block. A cruise around the southern hemisphere allows you to enjoy the best of their summer and visit some truly magical places. There are cruises available solely to Australia, or New Zealand, and there are now cruises that combine both which is great for those taking their first trip down under. Christmas in the sun isn't everyone's idea of fun, but it is something you try if you can and the popularity of these cruises proves that many are buying into this (image by rasiel).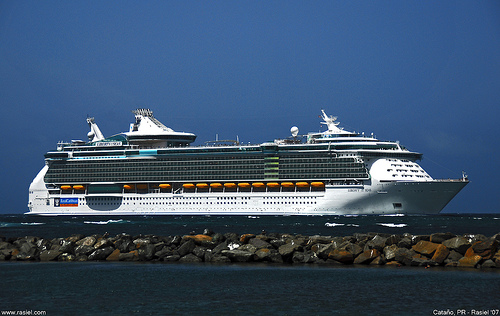 Africa
Twenty million years ago a great crack appeared in the earth and since then Africa and Asia have gradually been drifting apart. This fissure is now the Red Sea, and this waterway is the gateway to some incredible winter cruising. Stops at such resorts as Sharm el-Sheikh, Safaga, Muscat and Djibouti gives a winter cruise to Africa a definite Arabian adventure twist. With wonderful weather, vibrant cities and hospitable locals, this is a winter cruise that everyone should consider if they are looking for something a bit different. An added bonus is that's its proximity means there aren't endless days at sea either.
Myanmar and the Orient
Colombo in Sri Lanka, is the starting point for many of the cruises to this area, and you couldn't get a better introduction to the delights of the Orient. A welcome addition to Oriental tour itineraries is Myanmar, formerly Burma. Now the tourist block has been lifted, we are once again allowed to freely enter this fascinating country and discover what we have been missing all these years. Stop overs in such destinations as Chennai, Yangon, Phuket, Penang and Port Kelang in Kuala Lumpar gives you a real essence of the wonders of the mysterious East.
The Indian Ocean
You have to look on a map to appreciate the size of the Indian Ocean, and to see just how many countries have a coastline on it. These tours take you around the shores the ocean stopping off at some wonderful places on the way. These tend to be month long cruises as there is an awful lot to pack in. From Dubai, to Abu Dhabi to Chennai and Penang. The list of exotic places to visit just goes on and on. Diversity of cultures, a plethora of sights and sounds and the chance to sample some of the world's most exotic cuisines are two of the highlight of this cruise.
These are just a few ideas if you fancy fleeing a British winter for more exotic climes. The cruising community are always happy to welcome new members, and the adult only cruises are ideal for those who simply want to relax and enjoy their surroundings. There are some great deals around at the moment and it is definitely not too late to book yourself a cruise for this winter. Remember that if you are injured during a cruise as a result of the ship itself, there are legal professionals like this Naylor Law cruise ship lawyer who can help you get compensation.
Just looking out of the window at the miserable weather that has descended on us oh so quickly is more than enough to make you head online and see what bargains you can pick up. There are hundreds of winter holidays available but for that touch of luxury that takes you beyond an ordinary holiday there is nothing like a winter cruise to give you a real boost.
Related post: Top Places For Adventure Travels
Header image by TRAVISDEICHL