The upcoming World Cup in Brazil provides a wonderful opportunity for avid travellers to explore a new country whilst savouring the carnival atmosphere, excitement and drama during football's most prestigious international tournament. Millions of fans from across the world will travel to Brazil in unanimous support of their country, with many hoping to also explore the numerous towns and cities which give Brazil its famous reputation for flamboyancy, colour and religious culture. Neutral spectators and general lovers of football can also enjoy travelling across Brazil during the World Cup, with matches to be played across 12 cities providing a wealth of exploration and football to savour. Travellers can swot up on their football knowledge and their country's chances of winning the World Cup before jetting off to Brazil  with coral.co.uk/world-cup/odds, who provide an excellent betting market for fans to make their own predictions on how the tournament will pan out.

Rio de Janeiro
Brazil's capital city truly epitomises every cultural quality the country possesses, with Rio de Janeiro remaining one of the most popular tourist destinations. It is home to the famous Maracana stadium which will not only feature numerous group games, one second round and quarter final fixture, but also the Final itself. The 78,838 capacity stadium is a majestic setting which is fully justified as a World Cup venue, but there is much more to Rio de Janeiro for football fans and other tourists to enjoy during their stay in the city. Rio is world-renowned for its array of colourful and vibrant carnival celebrations and samba dancing, with numerous events held throughout the year for locals and tourists to immerse themselves in flamboyant music and dance. The city is also packed with a wonderful array of beaches, such as Copacabana and Ipanema, where football fanatics can soak in the radiant sun, sea and sand away from the World Cup action. Any tourist staying in Rio de Janeiro would be amiss not to see Christ the Redeemer, recognised as one of the Seven Wonders of the World, close up in all its glory; the huge statue symbolises the country's spiritualist culture and its religious attachment to Jesus Christ.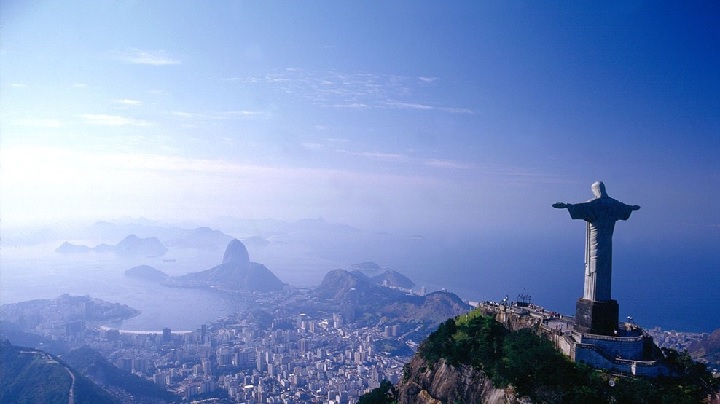 Sao Paulo
Unlike the carnival and sand-filled environment of Rio de Janeiro, the city of Sao Paulo is the metropolitan central of Brazil and is home to vast areas packed with skyscrapers and corporate buildings from where the country's business economy thrives. Most of its landmarks consist of famous museums, cathedrals and skyscrapers, but they take nothing away from the majestic architectural design and features that are prominent throughout the largest city in Brazil. Tourists can immerse themselves in the country's heritage and historical path through a number of museums, such as the Ipiranga, with the Pinacoteca and Sao Paulo Museum of Art home to an array of contemporary art exhibitions. A music culture is also prominent throughout Sao Paulo, with an array of concert halls and opera theatres providing tourists with a taste of traditional and contemporary Brazilian music.
The city will be the proud host of the opening World Cup fixture between Brazil and Chile in the Arena Corinthians – a brand new stadium built in Sao Paulo that has recently finished being constructed and is officially ready to host football matches. Arena Corinthians will host five more matches after the curtain raiser, including one of the semi-finals which should create a wonderful reception and atmosphere within Sao Paulo.
 Manaus
Many non-South American national managers would have been forgiven for hoping that none of their World Cup fixtures would be played in Manaus. Not only is the city famous for its topical weather and considerable humidity levels, but the main form of transport to Manaus is by boat or plane as it is situated at the heart of the Amazon rainforest. Fortunately for tourists, the city is worthy of travelling around during the World Cup and actually attracts considerable rates of tourism through its river cruises, jungle lodges and rivers. Tourists are recommended to remain hydrated at all times, and carry plenty of water and sun lotion to effectively combat the heat and humidity throughout Manaus. The city offers a wealth of urban qualities away from the Amazon, with a balanced array of corporate skyscrapers, beaches, opera houses and hotels providing no end of quality for tourists to enjoy away from the football action.
Although it will only host four group games during Brazil 2014, the 46,000-seater Arena Amazonia is a beautiful setting for World Cup fixtures to be played. The stadium's wonderful features can be savoured upon approaching the ground for a game and sitting inside to cheer your nation on to victory.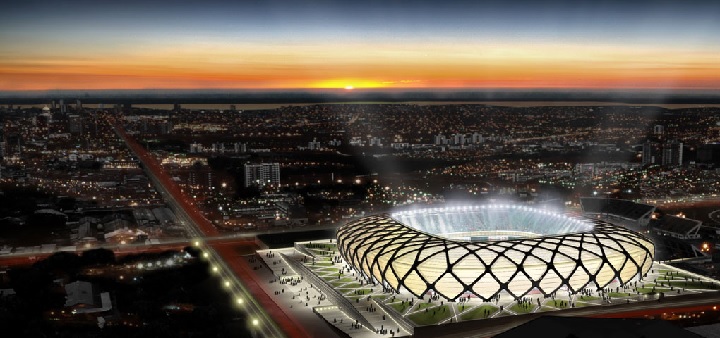 Pictures courtesy of Fifa.com & Wikimedia