Ibiza. You might think this island is a just hype among party people – but don't be fooled. Ibiza is wonderful, even for the non party goers. Ibiza is the perfect combination of beautiful beaches, great accommodations, fine undiscovered spots, good food and of course the biggest parties. From the most beautiful places to the best beaches, we have some tips for you. So sit back, relax and read.
Go to the best beaches and bays
Ibiza has a lot of undiscovered bays you can visit by car. Drive down a rocky track to Cala d'en Serra, a little haven among the pine trees. Or drop into Sol d'en Serra, a tiny bay between two cliffs. Here is a stylish beach club (Armante), where your can have lunch and cocktails or hire sun loungers. Of course, you can also go to the beach of Ibiza town (with a lot of locals) or Playa d'en Bossa (with a lot of tourists). Our personal favorite is Las Salinas, which is a few minutes away from Playa d'en Bossa. This beach is very popular among the rich and famous, party people, families and so on. The mix of people makes it a lot of fun!
Walk the old streets of Ibiza town
Do you like culture? Then you have to go to Ibiza town (Eivissa), the capital of Ibiza. Evening walks around the old part of this town are very cozy. You'll find old churches, cathedrals and a couple of museums (for the real culture vultures). And, you definitely can't skip the picturesque harbor. The boats in the harbour are very big and beautiful (they are way too expensive for us, but it's nice to watch!). Furthermore, there's Dalt Vila (the upper town), which has been a UNESCO World Heritage since 1999.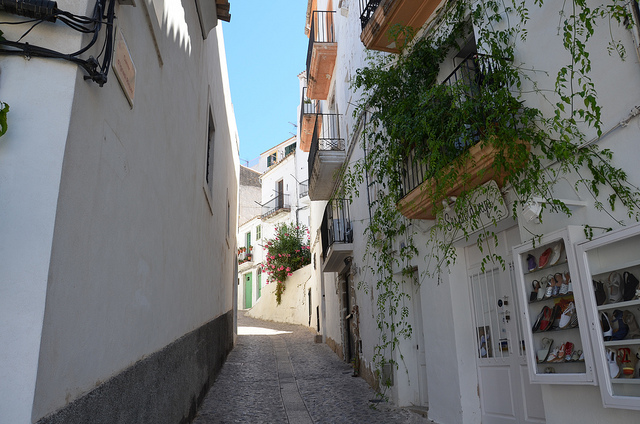 Clubbing – Privilege, Pacha and Space
Nowhere else in the world are the parties as large as in Ibiza. For example, Privilege has a capacity of more than 20.000 people. However, capacity doesn't say it all because Pacha remains the favorite of locals and tourists. Space invented the concept of a day-club, so when other clubs are kicking you out of the door at sunrise, you are welcome there. In Ibiza, you can literally dance till the sun comes up.
Enjoy music in the nicest beach clubs
When you don't like clubs that much, but you still want to join some parties, visit one of many beach clubs. It's smart to make a reservation first, so go and refill your prepaid phone to call them before you go. When you've done this, go eat at Nagai Sushi and Fusion Restaurant. Sip delicious cocktails at Aura or visit the beach club Bora Bora in Playa D'en Bossa. This is a day-long party area, so you can enjoy the music and people all day long.
Watch the sunset at the west coast
You definitely don't want to miss the beautiful sunset on the west coast of Ibiza. At Cafe del Mar, you'll have an phenomenal view, but its very (very!) expensive. Instead, you can sit on the stairs/rocks beside this club and bring your own food and drinks. An even better choice is to enjoy the sunset while sitting on one of the undiscovered beaches at the west coast. One thing is certain: you can't go home without seeing this.
Visit the Hippy Market in Es Cana
Another thing Ibiza is known for are its hippy markets. Hippies came here in the late 1960's and today there are still popular hippy markets, such as the one in Es Cana. This hippy market between Santa Eulalia and Escana, is held every Wednesday from April to October. You will find all sorts of bites, clothes and mellow people.
In conclusion, Ibiza is an island with two sides. You can go to the crowded places (such as the clubs and beaches), but also to the quiet side of the island (undiscovered bays, harbors). One thing is clear: you definitely need to go to this wonderful island!
_____________________________________________________
Related post:  Best Golfing Holidays In Spain