If you have never been to Koh Samui, then you will want to visit it as soon as possible. However, before you go, you should know what to see there. Read on to find out what are the best places to see on Koh Samui.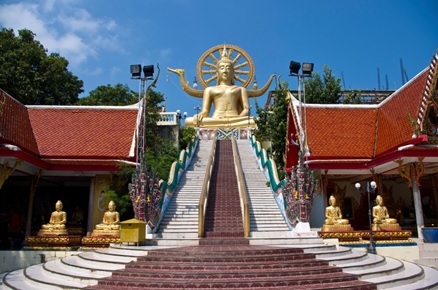 1. The Big Buddha Temple
One of the best things to see in Koh Samui is the Big Buddha Temple, which can be found off the north-eastern corner of Koh Samui, and it is actually one of the most popular places to see on the island. When you visit the Big Buddha Temple, you will want to snap a photo of the giant Buddha statue. Take time to admire it because it is unlike anything you have ever seen. As a matter of fact, no trip to Koh Samui would be complete without a visit to the Big Buddha Temple.
Those who are a fan of aquariums will want to make sure they visit the Samui Aquarium, which is where you can get a glimpse various marine life, as well as birds and exotic wildlife. It is a family-friendly attraction. Feel free to bring your entire family with you, as they will enjoy the aquarium, which also doubles as a zoo. The aquarium is where you will be able to view quite a bit of marine life, and if you visit the zoo, you will get the chance to see animals such as leopards and even a few Bengal tigers. You can even take pictures with them!

3. Rock Formations
f you are a fan of rock formations, then you will be pleased to know that Koh Samui is home to some pretty amazing formations, and you will want to view them in person. As for where these rock formations can be found, you can find them on the island's south coast on Lamai Beach. Make sure you bring your camera because you will want to get a few photos of the distinguished rock formations. These rock formations are quite unique and as soon as you lay eyes on them you will notice that they are uniquely shaped. Seeing them is a perfect way to start a vacation in Koh Samui or it is the perfect way to end your vacation depending on how tired you are and how hot it currently is. It might be quite a hike. You will not be disappointed with these rock formations, so make sure you and your family check it out while you are in Koh Samui.
Those who love gorgeous waterfalls will want to check out the Na Muang waterfall in Koh Samui, as it is one of the most gorgeous waterfalls in the world. Also, most people will find that reaching the waterfall on foot is quite easy, so if you like to do a little bit of walking, this might be the place to go! When you arrive at the waterfall, you will get a calming sensation and you will be able to sit back and take in the gorgeous sight of the waterfall. If you're looking for something amazing and relaxing to do, then go and see the Na Muang waterfall for yourself.
5. The Mummy Monk
This is a temple that you can visit and you will definitely want to set aside a day in order to visit it. It is worth mentioning that entry is completely free, so don't worry about having to spend a lot of money to enter.
There are many other things you can see while on Koh Samui. However, the above attractions are some of the best places to see. Make sure you book yourself a decent hotel or one of the gorgeous villas through one of the Koh Samui villa rental company. With that said, you should book your trip to Koh Samui as soon as possible and check out the above places for yourself. Samui is a great place to be and many people decide to move their whole lives here!