"Fast Forward" is the latest in a series of REI profile pieces about athletes, outdoorsmen, and unique thinkers. If you've followed these short films, you've met compelling personalities already. There was the Ultra-runner and the Trail Angel, both showing how it's possible to find your own way of living life, while drawing strength from nature and your fellow man. This time REI introduces us to Lael Wilcox a lifestyle cyclist who travels the world, takes part in long distance races, and is always seeking out unpredictable new experiences.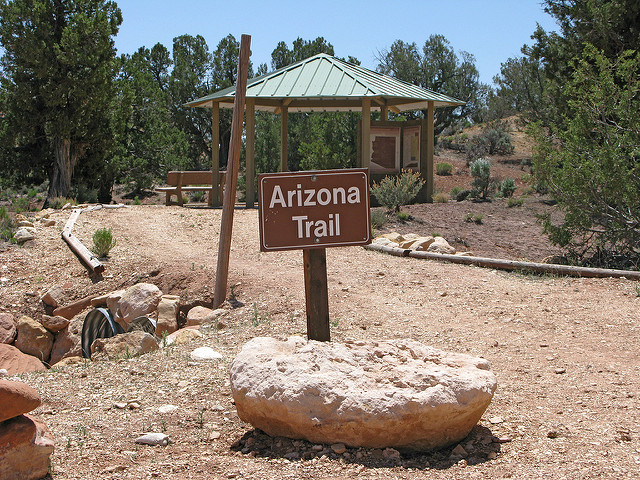 REI catches up with her during the
Arizona Trail
, an 800-mile desert singletrack. We meet Lael as she prepares for the journey. Down to earth and plainspoken, Lael talks about how she doesn't fit long distance biker stereotypes: she doesn't wear sunscreen, she doesn't have the "right" clothes, she carries only minimal gear and (junk) food. But her idiosyncrasies don't keep her from achieving remarkable feats, including a recent spate of long distance cycling records around the world. She hopes to break the Arizona Trail women's record, by at least a couple of days.
As she makes her way down the endless trail, she tells us more about her way of life. She and her partner work 6 months out of the year, then travel on their bikes all around the world for the remaining 6 months. Lael explains her need to keep moving, to constantly seek out novel experiences. During a hike through the Grand Canyon, a path she is not allowed to travel by bicycle, she explains how her journeys have made her comfortable to be alone. After a few days, she grows very ill and is forced to abandon her journey. Disappointed, but not beaten, she prepares for future races. These races she views not as competitions, but as intentional challenges taken up by people like herself, who always need a new way to strive and grow.
_____________________________________________________
Related post:  The best water sports to enjoy on holiday
Images credit (under CCL) by order:  Vik Approved, Al_HikesAZ