Asia is still one of the best places in the world to stretch your holiday buck – regardless of where you choose to visit. OK, there are some exceptions such as Japan or Singapore, but even these can still be done on a budget. Besides the budget travel appeal, Asia also has some of the worlds most spectacular scenery and monuments, some of the friendliest people you will ever meet and food to die for.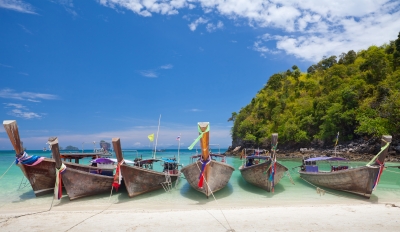 So how best to stretch your holiday budget? Can you backpack around Asia for less than US$50 a day?
Accommodation:
Some of the best budget accommodation can be found in Asia and a decent room can be come by for less than the cost of a McDonald's burger in a large percentage of the continent.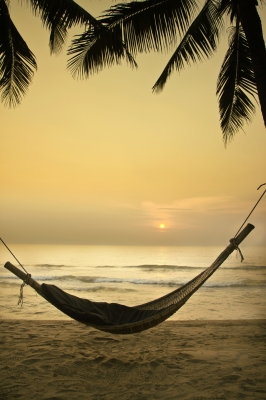 For example, a double room near the beach in India, Kerala or Goa, will set you back around US$4 -5 a day. This will be a fairly basic hut or apartment with toilet and intermittent shower but will do fine for any backpackers needs. By contrast, a hotel room in Mumbai or New Delhi is more likely to be around US$20 for a basic double room.
Prices for hotel rooms in Sri Lanka, Cambodia and Laos are normally on a par with India -about $5 for a basic double room. Dorm beds are slightly less at around $3 a night.
Thailand, Malaysia and Vietnam are a little more expensive; around $8 – 10 a night for a double room in most parts of these countries. Dorms and hostels in places like Thailand and Malaysia are more like $5 a night for a room shared with anything from 4 to ten people.
Hostels and dorms in cities like Singapore, Hong Kong and Tokyo are around $20 a night. Seoul offers shared rooms for around $10 per night per person. A hotel room in Seoul or Dubai can be got for around US$20.
Getting Around:
Most of Asia is well equipped for tourists with regular services linking all the major tourist centres, regionally. India for example has an exceptionally comprehensive train and bus network which is also very cheap – although it can be tricky to book. A train from Mumbai to Goa will set you back anything from $15 and upwards, depending which class.
The popular destination for tourists in south east Asian are; Thailand, Malaysia, Cambodia, Laos and Vietnam – all have excellent tourist bus services with a trip one end of Malaysia to the other setting the average traveler back around $20. The backpacker route is a well trodden one around these parts so it tends to be that travel agents offer combo train/boat or bus/boat services to outlying islands or visa services for cross border trips. You may well find in fact that getting around in this part of the world is phenomenally easy and efficient, possibly more so than back home…
Air travel in Asia has also become easier and cheaper with the emergence of airline such as AirAsia in Malaysia, Jet Airways and IndiGo in India, Tiger in Singapore and Cebu Pacific in the Philippines. In some instances air travel is as cheap, or cheaper than the overland journey and of course a lot cheaper. Try booking in advance for some phenomenal deals.
Local travel in most Asian cities is simply a case of taxis or tuk-tuks. These are normally very cheap; $1 or so for a trip across Bangkok – $5-6 from Mumbai airport to downtown. Places like Singapore and Hong Kong both have excellent public transport (metro) systems which are very highly recommended for getting around.
Eating and Drinking:
One of the joys of Asia is its many spectacular flavours, with different cuisines available even across one country. Think Indian food is just meat and sauce? Or Thai food is noodles and spicy chicken? Think again…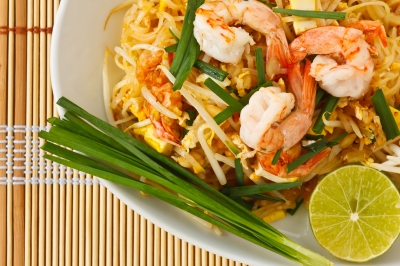 From Dubai to Tokyo, there is mouth watering street food to be tried at every opportunity. A shawarma (grilled meat in a wrap with salad) in Dubai for example will set you back around $1.50. A bowl of Pad Thai from a Bangkok street vendor will set you back $1.25. A bag of samosas or bhajia from a shack in India will set you back less than $1.
Restaurant meals too can be very cheap. A sit down meal on the beach in Sihanoukville, Cambodia will set you back around $3-5 for a fresh grilled fish of your choice, salad and potatoes. A local beer to go with it will be $1. Generally speaking whether you're in Dubai, Mumbai or Bali – you can get a proper meal for around $5 or less. Western food tends to be more expensive though so if you crave a burger or pizza expect to pay around $5-8.
Yes, it's possible you might get ill but take simple precautions such as insisting on freshly prepared food (don't take anything that's been sat in the sun for hours) and avoid meat or fish that looks like it may have been around for a while. Salads are often best avoided as they can have been rinsed in dirty water. Having said this, most visitors get through an extended trip to Asia with minimal upsets.
Alcohol varies in price across the region but as a general rule, a night out may set you back more than your daily budget. A beer from a beach bar in Thailand will set you back $3, but only $1 if you buy it from 7-Eleven. Muslim countries like Malaysia or UAE raise the bar by charging a lot for beer. Dubai or Abu Dhabi expect to pay $5 and upwards for a beer, the price is similar in Malaysia, Hong Kong and Singapore.
How Much Should I Take?
The figures quoted are all approximate and vary regularly with exchange rate fluctuations and it depends where you're going. But India, Laos, Sri Lanka, Nepal and Cambodia tend to be very cheap – $20 a day would be sufficient to live well. Thailand and the South East Asian countries would be more in the region of $30 a day. A trip to Singapore, Korea or Hong Kong will raise the bar considerably to around $40 a day. Japan can stretch the pocket too, so budget around $50 a day.
Photos courtesy of Thawornmat, Winnond & Phonsawat from www.freedigitalphotos.net