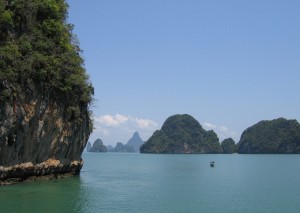 Thailand, the land of smiles..! Not to mention white sandy beaches lapped by azure blue sea and fringed by coconut palms, ensuring the smiles aren't just from the locals but from visitors too. The islands of Thailand offer a little something for everyone, from the adventure enthusiast, to the lazy sun worshipper to the party animal. There is a lot of choice when it comes to Thai islands so knowing where to head to to make sure you get the most out of your holiday is important.
MONEY
Thailand's currency is the Baht which comes in at around 35 Baht to $1, 45 Baht to 1€ or 50 Baht to GB£1. A beer in a bar or restaurant is 50 Baht, a meal can be had for 50 to 100 Baht, a bottle of water 10 Baht and a T-shirt 250 Baht. Budget hotels are normally around 150 – 250 Baht and upwards, a mid range double room will be around 1000 Baht.
WHERE TO GO
Getting to Thailand's islands is the easy part, you could fly there or use a ferry company like Raja Ferry to get to any of the islands. The hardest part of going to Thailand is deciding where to go. Each of the islands has its own unique attraction, some have more than one, so in a nutshell, these are benefits of each island:
Koh Phangan: The infamous full moon party happens on Had Rin beach at, surprise, full moon. This is when thousands of revellers descend on the beach and party til dawn clad in not much more than fluorescent paint. If partying til dawn isn't your thing the other side of Koh Phangan away from Had Rin also offers more classy resorts and quieter beaches.
Koh Samui: One of the original islands that started it all, Samui has become one of the more developed Thai islands with an extensive choice of more high end hotels – leading to it losing it's budget tag unlike neighbouring Koh Phangan. As one of the larger islands there is also a lot of choice when it comes to beaches but these tend to be quite developed. Samui is excellent for trekking and the more adventure minded island holiday-er with all sorts of activity centres based on the island.
Koh Phi Phi: The set of the Leonardo DiCaprio film, The Beach, Phi Phi is one of the most picture postcard of the Thai islands. Although not really a budget choice Phi Phi does still offer bargain accommodation, although it does get very busy so it can be wise to book ahead, especially in high season. Also an excellent choice for snorkelling and scuba diving.
Phuket: The largest of the Thai islands, Phuket is very highly developed with world class hotels, golf courses and adventure centres for trekking etc. With an international airport all of its own it is easy to have the whole Thai experience without leaving Phuket. If you choose to go to Phuket experience luxury at its finest by staying at the Trisara Resort which is located in it's own private cove in northwestern Phuket.
Koh Tao: Still a budget find and a magnet for scuba divers due to the abundance of spectacular dive sites dotted around the island. Koh Tao is also fast becoming a party haven to rival Koh Phangan although there are also a few high end hotel resorts.
Koh Chang: Close to Bangkok, Chang has the high end resorts and the budget options. It is quite heavily developed but still has some lovely little beaches tucked away. Part of Chang's charm is the jungle that offers excellent trekking opportunities.
TRAVEL
Getting to the Thai islands is easy enough, Thailand's travel infrastructure is one of the world's best with efficient and cheap boat and taxi services serving all the islands as well as a good quality train and bus network. If you just arrive in Bangkok or Phuket you can be on a bus or train within hours all the way to your chosen island. Trains from Bangkok to Surat Thani in the south, the hub for the islands, are around 1000 Baht – buses are cheaper. Ferries to the islands vary from 100 to 500 Baht.
ACCOMMODATION
Thailand has the whole range of accommodation from hostels to top end resorts. The budget end goes from around 150 -200 Baht a night up to five star prices. Mid range prices can be around 1000 Baht a night for a beautiful beach hut – not normally including breakfast. Hotels in Koh Tao or Koh Phi Phi do deals including diving courses which can be excellent value for money. These can be booked in advance or on arrival.
LANGUAGE
Thai's are used to visitors from all over the world, their country is one of the most popular tourist destinations. In major tourist areas English is widely understood and spoken, but it pays to speak a little of the most basic lingo. A simple 'Sawadee Kap/Kaa' to say Hi and a 'Kop Kun Kap/Kaa' for Thank You go a long way. Note, the Kap is for men and Kaa is for women. Kap and Kaa can also be used for OK or general agreement.
CUSTOMS AND TRADITIONS
The Thai people although very accommodating and friendly are also very conservative. Respect their culture and they will love you, act ignorant or disrespectful and you will know about it. Generally speaking be respectful to Buddha images and images of the King – who is worshipped as if he is a God. It is standard practice to take your shoes or flip flops off when entering a home and often shops or restaurants in the beach areas.
Thai's are generally fairly OK with naked flesh on the beach but of course standard rules apply, be mindful of where you are… Naked breasts are a common sight on the beaches of Thailand but full nudity is not really appreciated. When entering temples you will need to be covered up, no bare shoulders or midriffs for women and for men a T-shirt and trousers. You will definitely need to take your shoes off to enter any temple.