India! There is nowhere else quite like it on the planet… Where else can you see thousands of holy men wading into a holy river to make their prayers, watch a cow wander the wrong way down a busy highway and no-one bat an eye lid or smell, hear and taste anything like it. There's no denying that for the first time visitor to India it can be not just an assault on the senses but it can be very daunting – however once you have acclimatised and calibrated yourself to India it can only be described as spectacular, mystifying, frustrating and enchanting in equal measures, often at the same time.
One way to get the best out of your visit to India is to be prepared. It's very easy to get caught out, especially on your first few days. The noise, heat, humidity and all round chaos can be overwhelming, but remember a few simple pointers and you will be enjoying the ride in no time.
MONEY
The Indian Rupee is the currency in India and comes in various denominations, Rs 5, 10, 20, 50, 100, 500 and 1000 notes. Coins come in Rs 1 and 2. The Paise (pie-sa) is the now mostly defunct small change unit of the Rupee although you do occasionally come across paise coins.
The Rupee fluctuates greatly but exchange generally offers around Rs50 for US$1, Rs75 for GB£1 or about Rs65 for €1.
A cheap hotel room can be found for around Rs 100 – 200, depending where you are. Mid range is usually around Rs 500 – 1000. A genuine Indian meal can be bought for around Rs50 – 100, a bottle of water normally is Rs12 and a taxi from Mumbai airport to the downtown (Colaba) area will be around Rs225 – 300.
Outside of the cities, which are vastly more expensive than the rest of the country, you can expect to survive on a budget of around $10 a day if you're very thrifty.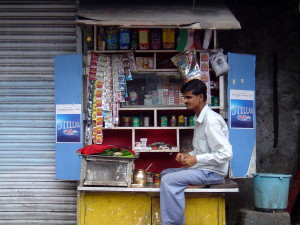 ACCOMMODATION
Indian accommodation varies in quality and price so greatly that it is hard to give a general price for the whole country. As mentioned above, accommodation is generally a lot more expensive in the cities than outside, especially Mumbai and Delhi. Expect to pay a minimum of Rs500 a night in Mumbai for a very basic hotel with not much more than a single bed. As a general rule it is often best to pre book your hotel in your arrival city as flights often arrive very early in the morning, especially if arriving from European destinations.
Once out of Mumbai or Delhi you can expect to pay a much more reasonable Rs150 for a basic single or Rs300 for a double in most popular tourist areas. Goa for example has decent accommodation for cheap all the way up to Rs1000 for a fairly plush double room, although the sky is of course the limit.
An important thing to remember is that your standard of cleanliness at home will probably need to be re-calibrated in India. Grubby beds, dirty walls, broken plug sockets and leaking (if they even work!) showers are standard in India. When you arrive in a new town it is pretty standard procedure to walk around looking for a decent hotel only to find that most of them are over priced and grubby – but persevere and you will find that gem!
Taxi drivers are often paid a commission to find customers for hotels which can sometimes work in your favour. If you're in an unfamiliar town late at night simply ask a taxi driver, use the place to stay one night and have a look around the next morning.
TRAVEL
Travelling around India is excellent value and very easy, the Indian rail network is one of the most comprehensive in the world and is the country's largest employer. Booking a train ticket though can be tricky, especially to popular locations such as Goa, Rajasthan or Kerala. You will need to visit the train station, fill out a form usually with your train number on it, the amount of passengers and the required class and then wait in an over crowded booking office for your turn to book. Travelling by train though is most definitely the best way to see India and to travel as the Indians do.
Buses are less comfortable but a lot cheaper and reach parts of the country that trains can't reach, such as the mountain regions. Long distances are not recommended as it can be very uncomfortable and Indian road safety is not exactly the best in the world. Sometimes however it is necessary to take a bus, in which case it is often preferable to go for the luxury or 'superfast' option.
Air travel in India is relatively cheap and reaches all over the subcontinent and surrounding countries. Indi-go, Kingfisher and Jet are all excellent budget options although booking at least a few days in advance is often recommended.
TIPS
Single women travelling in India can be subject to some harassment, in the street sometimes you will get whistled at, busy bus stations can be places for wandering hands too. It is often easy to meet a fellow traveller while on the road which does make for safety in numbers, but if you need to travel alone try to avoid engaging groups of men in conversation and dress conservatively. India is a very closed society sexually and men can often not know how to behave around a woman if she appears friendly, especially in rural areas. Recent news events have highlighted this, but it is still a country that is changing from a very poor and undeveloped one to a more westernized culture.
TRADITION & CUSTOMS
Indian people are on the whole very friendly and accommodating. It's not unusual to be sat on a train and to be suddenly part of the family, items of food and drink pressed on you and all manner of questions asked about your country or what you think of India. If you feel uncomfortable it is best to stay polite and if you need to refuse, do it firmly and with a smile.
In temples and peoples homes it is always best practice to remove your shoes although this will become second nature after a while.
Haggling is as much a part of Indian life as food and religion. When faced with a foreigner the Indian reaction is to crank up the price ten fold and often foreigners will pay whatever price is named. Value the item yourself and then offer your price, remember not to be too ridiculous as these people need to make a living too. Sometimes though your price will be refused outright but once you walk away the seller will chase you down to offer you the item at your price. Remember to only start haggling if you actually want the item though!