Also described as the world's hotel capital, Paris has a reputation of offering elegant accommodations in its numerous luxury hotels as well as apartments. The mid-range, comfortable accommodations are also easily available in most locations around the city. There are also numerous independently run hotels with some featuring charming traditional characters or even courtyard and gardens. There are budget accommodations that are found not too far from the city center and close to many attraction sights. Some big chains in France also offer cheap accommodations and apartments in Paris. Many online sites just like www.housetrip.com offer great deals which are worth checking out. There are many things that you must consider before choosing the most suitable accommodation while in Paris.
Price and Accessibility
Paris is a vast city with hotels that costs thousands of Euros a night with others charging only a few Euros a night. Depending on how much you are willing to spend per night, ensure you limit yourself to those hotels that lie at that bracket. The location of the accommodation is also an important factor to consider, especially if you use the public transport. If you have difficulty walking, ensure that the hotel you use is close to the area you plan to visit or near a public means of transport. There are also hotels that accommodate your needs such as offering free transports or cabs.(Image by Mandarin Oriental Hotel Group)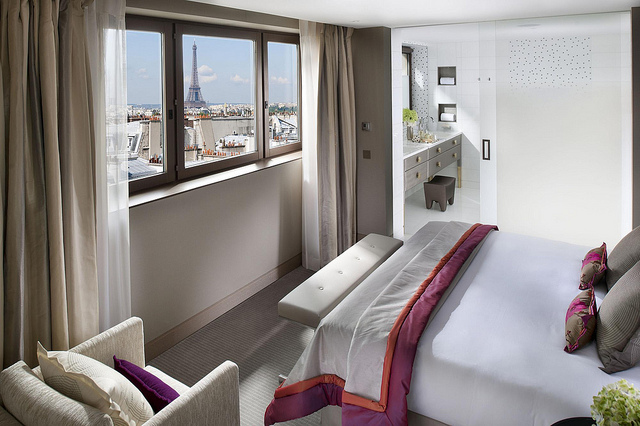 Quality of the Accommodation and Time of the Year
There are those busier seasons in Paris that you expect to find almost all the hotels and accommodations fully booked. If you plan to travel to Paris at such a time, ensure that you book you room early as it will also be easier to identify the most suitable accommodation when in the low season. Some travelers consider the quality of their accommodation as one of the most important aspect of their trip. Some believe that they must get the most luxurious hotels. However, if you wish to downgrade your accommodation a little bit, you might save some money for other aspects of your trip. You can also limit your search of accommodation to area where you will be spending much of your time. This may be around shopping areas, nightlife or even museums.
Popular Accommodations in Paris
One of the most popular holiday apartments are the French Holiday Apartments and Self Catering Accommodations.These apartments offer a wide variety of holiday accommodations to choose from. This is especially for those going for a self-catering holidays in Paris. You can choose a holiday apartments that is located in a rural setting or in the big cities. This Holiday apartments are designed to suit ideally those traveling with children. Some of these apartments are also designed to accommodate two people with others designed for up to six people. Some of the other popular hotels that you can check out for accommodation include Hotel Georgette, Port Royal Hotel, Plug Inn Boutique Hostel and Le Montclair Hostel among many others.(Image by Oliver Wasmund)

When choosing the most suitable kind of apartments, ensure that you go for the one that give you a taste of the Parisian Experience. Read their websites and learn of the other services you will enjoy and also ask for advice for your trip from them.
_____________________________________________________
Related post : Why Has Paris Got Such A Romantic Reputation?
Feature image by Bülent MUTLU