Have you ever stayed in an airport hotel? Perhaps you were traveling on business, and needed to be conveniently close to get your flight back home. Or, maybe you had no other choice, with either a long wait between flights or worse – your flight was delayed? Either way, airport hotels are places of simple convenience, and are certainly not considered glamorous places to stay. That is, until now! Here are three of the best examples of the new rise of the airport hotel.

1. London (Stansted): The Radisson SAS Airport Hotel
Whether you're a business traveler, who will appreciate the use of business center, meeting rooms and wireless internet, or you're just stopping on your way to your holiday destination, this hotel has it covered. There are several places serving good food and beverages, as well as 24-hour room service. The health club has steam room, indoor swimming pool, sauna and fitness center. There is also a Spa which is exclusively for hotel guests and offers a range of treatments and massages. However the most memorable feature might be its wine tower, with 4000 bottles of wine, and special "wine angels" to fly up (on cables) to retrieve your wine!(Image by Joydeep Pal)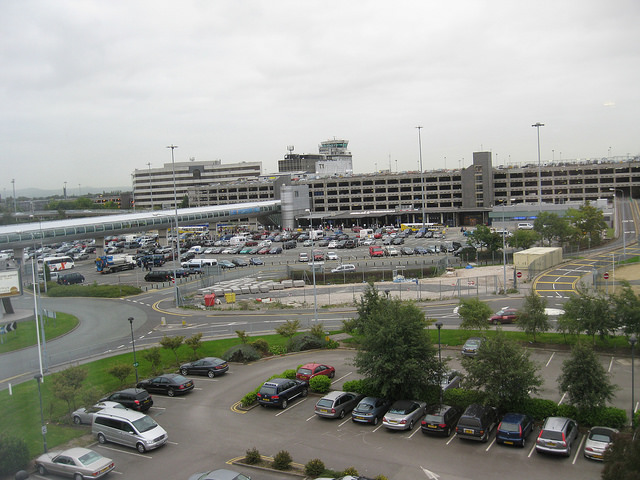 2. London: Heathrow Airport Hotels
London Heathrow Airport's central location in the European continent makes it the hub for a large number of airlines operating flights to different parts of the world. Be it business or leisure, a stay in one of the Heathrow airport hotels offers great comfort. When the flight lands at or is scheduled at odd hours, an Airport hotel would be the ideal option. It is also convenient to travel to and from these hotels. One of the best hotels for a comfortable stay is Hilton London Heathrow Hotel.
Hilton London Heathrow Hotel is a luxury hotel with different facilities like air conditioned public areas, Swimming pools, bars, restaurants, gift shops, coffee shops…The rooms range from simple ones to first class and family rooms with all necessary accessories for personal use. The specialty of the rooms at this hotel is the marble trimmed bathrooms with highly comfortable vanities. The business center has all equipment and service for business travelers to hold meetings and conference and any business activity. Fitness rooms and recreation for children are offered with all comforts. The hotel has four restaurants each serving different varieties with delicious breakfast, lunch and dinner. Windsor Castle, Thorpe Park, Kempton Park and Earls Court are some of the attractions close to the airport for excellent entertainment.
3. Munich: Kempinkski Munich Airport Hotel
The architecture of this building alone makes it stand out from other hotels, with a glass and steel exterior which is like a work of art. The hotel itself, located conveniently directly outside the airport terminal, offers an excellent restaurant and bar, comfortable sound-proofed rooms, a gym, jacuzzi and sauna, sunbeds, massage treatments and its own swimming pool! If you ever find yourself with a layover in Munich you might even think it's a blessing in disguise.
4. Hong Kong: Regal Airport Hong Kong Hotel
This is a five star hotel which has won Best Airport Hotel in the World as well as Best in Asia-Pacific many times. Not only is it the only hotel to connect directly to the airport by an enclosed, air-conditioned bridge, but it offers its guests a six restaurants, 1,171 rooms, two swimming pools, a spa center and its own beautiful landscape gardens. If this is the way that airport hotels are heading, the world of travel will be a much better place.
5. London: Gatwick airport hotel
Gatwick airport seems quite convenient to all the visitors in London, since all the major airlines have got their flights at this airport. All those who arrive at the Gatwick Airport either for a night stay, a weekend, a week or a couple of them, they all come out of the terminals with a common thought of finding the nearest Gatwick hotels. Tired of the flight all of them just want to get into their Gatwick hotel room and rest. The hotel offers the world class services and the visitors will enjoy their stay for sure. The highly furnished rooms, and the room services will give you an experience that you won't find anywhere else.(Image by Roger Smith)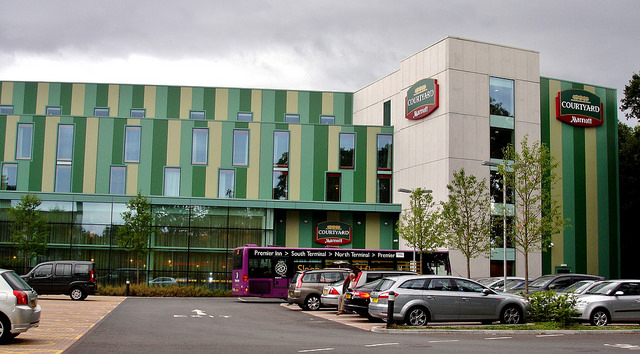 6. India: Airport Hotels in Delhi
Delhi has some of the best accommodation in the country with starting from 5-star hotels to budget hotels. You might be coming to Delhi for various reasons which can be due to relocation, travel, business, studies, vacation, work or just anything. You can get all kinds of accommodation because it has everything to settle your needs. For example Airport Hotel in Delhi serves its guests since 1977 and has been among the finest New Delhi hotel accommodation. This hotel offers some of the best hospitality services with latest amenities. It caters to all kinds of guests starting from business delegates to leisure and cultural travelers. It has played a perfect role to attract thousands of tourists every year. It is conveniently located just at a walking distance from the National Domestic Airport and few minutes' drive from the International Airport.
Rather than just being a basic room where travelers can lay their head for a few hours, airport hotels are turning themselves into places that people actually want to be. While airport hotels know their guests are usually reluctant ones – whether you're forced to be there on business, or you've had to book in because your flight is delayed – more understand that every guest still deserves an absolutely fabulous experience.
_____________________________________________________
Related post : 5 Family Attractions around Heathrow Airport
Feature image by Marriott Eastern Region