Travelling is a hobby for many, for some it is their passion and a way of life. While travelling to new destinations itself is quite adventurous there is nothing adrenaline pumping experience than going on a trekking experience and scaling new peaks. Just like any travel excursion going on a trek require careful planning and preparations.
First and foremost, if you have zeroed down on a particular peak that you wish to scale, it is important that you first reach that region; if it is a known tourist spot and if it is the season time make sure that you get your bus booking well in advance. You can get your bus bookings through Abhibus, it is a one stop destination to make your bus booking across India. You simply have to enter the 'from and to' city, the date of journey and you would instantly know the availability of tickets. The best thing about using this service is that you get to use Abhibus coupons that allow you to get attractive discount on your ticket bookings.
Once you are done with your bookings, it is time to think about the place you are going to and prepare yourself to sustain in the worst case scenario. There are a few absolute essentials that every trekker must carry in his/her backpack while going on a trek:
Water & Food
It is paramount that you carry sufficient food and water in your bag while going on a trek, no matter, even if it is a short one day trek, you never know when the nature strikes. It is best advised to be prepared for the worst adversity. Also it is important that you every member in the group carries their pack of food and water bottles and keep the consumption less. It is also advisable to carry high energy protein bars so that you don't run out of energy if the trek takes more time than you expected.
Appropriate Clothing
Depending on the place you are going it is important that you dress appropriately. Make sure that you feel comfortable in the dress, struggling with the dress is the last thing you would want to do while trekking. If it is a cold region or forest trails make sure you have warm clothes to keep you protected from the clothes. In any situation keep a dress or two handy.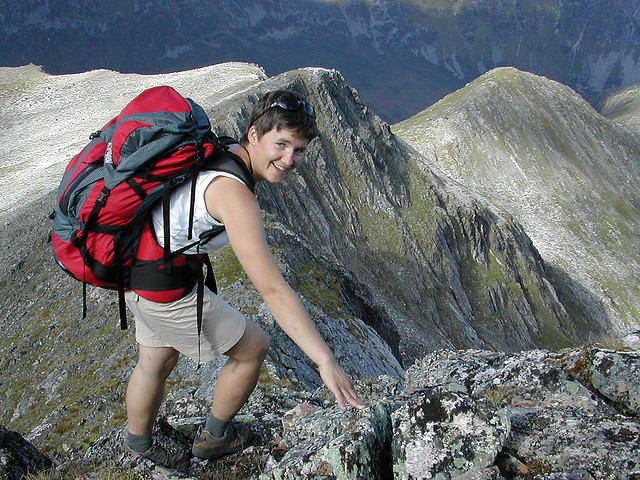 Compass & Mobile phone
Both are absolute essentials. A compass is vital to get back on the right track, it will help you keep you away from being lost in the mountains and keep your focus on the target point. Also make sure that your mobile phone is fully charged before beginning your trek, it would come in handy to call for help or get in touch with your group member if you get lost.
First aid kit
You would never know what hits you at the next step. It not uncommon to get hurt while trekking so make sure that you carry a first aid kit in your bag to get relief from injuries or pain.
Torch
Even though you are going on a day trek it is advisable to carry a good torch, weather can change quickly so if it becomes unusually dark torch will come to your rescue.
________________________________________________
Related post:            From River to Canyon: The Gorges and National Parks of Utah
Images credit (Creative Common) by order:   Moyan Brenn, Gunnar Hildonen